To understand the deep origins of animal diversity, we compare mechanisms of development and cell-cell adhesion mainly using Drosophila and the spider Parasteatoda tepidariorum.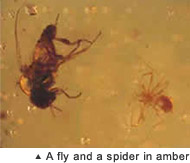 Multicellular animals, the Metazoa, show a great diversity of body forms. Fossil records suggest that the major morphology-based taxonomic groups of metazoans, including the arthropods and chordates, had already existed more than 500 million years ago. Comparative studies of genetic mechanisms underlying the development of body forms in the model vertebrates and invertebrates, such as Xenopus and Drosophila, have revealed some conserved aspects of the developmental mechanisms among the metazoans. However, our understanding of the deeply ancient animals from which the body-form diversity was evolved is still in its infancy. For example, there is no consensus of idea about whether the segmented body plans in the major metazoan groups have common or independent origins. One of the biggest obstacles to reconstructing the macroevolutionary processes is the fact that during evolution the animals flexibly and sometimes drastically changed their genetic programs without disrupting the basic body plan in each major metazoan branch. Our research in BRH aims to overcome this problem and achieve a good understanding of the ancestral animals that were allowed to evolve the great diversity of animal forms. To this end, we compare mechanisms of development and cell-cell adhesion mainly using Drosophila and the spider Parasteatoda tepidariorum (see below for more details).


Group LeaderHiroki ODA,Ph.D.

Post-Doctoral fellowSawa IWASAKI,Ph.D.

ResearcherYasuko AKIYAMA-ODA,Ph.D.

Research AssistantAkiko NODA

Post-graduate studentRyota NANJO

Duplication of body axes experimentally induced in spider embryos
We have published a review paper that describes twinning of spider embryos experimentally induced as well as provides a historical background on such twinning experiments in spiders. One of the conclusions of this review paper is "The two concepts of developmental biology, organizer and self-regulation, which were described in vertebrate embryology, are similarly applied in the development of spiders." Please see two movies showing body axes duplications following two different types of embryological manipulations (Movie1 and Movie2), as well as a movie showing delayed body axes formation following removal of cumulus by laser irradiation (Movie3).
Hiroki Oda, Sawa Iwasaki-Yokozawa, Toshiya Usui, and Yasuko Akiyama-Oda
Experimental duplication of bilaterian body axes in spider embryos: Holm's organizer and self-regulation of embryonic fields
Development Genes and Evolution, 10 April 2019, First Online (Open Access)
DOI: 10.1007/s00427-019-00631-x
https://link.springer.com/article/10.1007/s00427-019-00631-x

Diversity of stripe-forming processes in an embryo
Our paper, which describes a quantitative study of stripe-forming processes relevant to segmentation in a spider embryo, has been published in the journal Developmental Biology. Segmented body patterns along the body axis are shared morphological characters of arthropods. Experimental studies using various insect and other arthropod models, however, have suggested that developmental processes resulting in striped patterns considerably vary depending on the body region as well as on the species. But, such varied stripe-forming processes have not been documented in a common framework. In this work, using embryos of the spider Parasteatoda tepidariorum, we quantitatively characterized the diversity of stripe-forming processes in a dynamic cellular field. Cell behaviors were also examined to show wave-like features of gene expression. Our descriptions highlight contrasting pattern dynamics, splitting versus oscillation, in both terminal (head and abdominal) regions of the field. In the middle (thoracic) region, stripes appear to form by a third mechanism. Employment of a diversity of segmentation processes in an embryonic field, which are region-dependent, is common among arthropods.
Natsuki Hemmi, Yasuko Akiyama-Oda, Koichi Fujimoto, and Hiroki Oda(2018)
A quantitative study of the diversity of stripe-forming processes in an arthropod
cell-based field undergoing axis formation and growth
Developmental Biology 437 (2) :84-104
DOI: 10.1016/j.ydbio.2018.03.001
https://www.sciencedirect.com/science/article/pii/S0012160617309089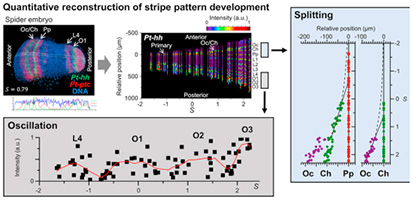 Schwager, Sharma, Clarke, Leite, Wierschin, Pechmann, Akiyama-Oda, Esposito, Bechsgaard, Bilde, Buffry, Chao, Dinh, Doddapaneni, Dugan, Eibner, Extavour, Funch, Garb, Gonzalez, Gonzalez, Griffiths-Jones, Han, Hayashi, Hilbrant, Hughes, Janssen, Lee, Maeso, Murali, Muzny, da Fonseca, Paese, Qu, Ronshaugen, Schomburg, Schönauer, Stollewerk, Torres-Oliva, Turetzek, Vanthournout, Werren, Wolff, Worley, Bucher, Gibbs, Coddington, Oda, Stanke, Ayoub, Prpic, Flot, Posnien, Richards and McGregor(2017)
The house spider genome reveals an ancient whole-genome duplication during arachnid evolution
BMC Biology, Volume 15, Issue 62, 2017
https://bmcbiol.biomedcentral.com/articles/10.1186/s12915-017-0399-x
Mizuki Sasaki, Yasuko Akiyama-Oda, and Hiroki Oda(2017)
Evolutionary origin of type IV classical cadherins in arthropods
BMC Evolutionary Biology, Volume 17, Issue 142, June
DOI: 10.1186/s12862-017-0991-2
https://bmcevolbiol.biomedcentral.com/articles/10.1186/s12862-017-0991-2
Shigetaka Nishiguchi, Akira Yagi, Nobuaki Sakai, Hiroki Oda(2016)
Divergence of structural strategies for homophilic E-cadherin binding among bilaterians
Journal of Cell Science DOI: 10.1242/jcs.189258
http://jcs.biologists.org/content/129/17/3309

At the Joint Annual Meeting of JSDB 51st and JSCB 70th, we organized an international symposium entitled "Metazoan Cell-cell Junctions: Molecules, Structures, Mechanics and Evolution" (June 8th, 2018 in Tokyo). We invited leading scientist from abroad and within Japan working in the field of cell-cell junctions. They gave talks about their recent findings, technologies and future perspectives. We could share the academic importance of cell-cell junction studies.
https://confit.atlas.jp/guide/event/jscbjsdb2018/session/S06/category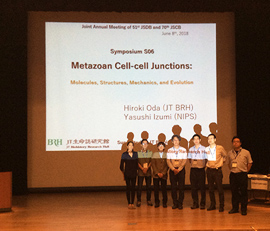 [April 2019]
Sharing and effective use of our BRH data resources
Nearly two years have passed since we started to run our BRH data resources, site where you can search several kinds of databases…[read more]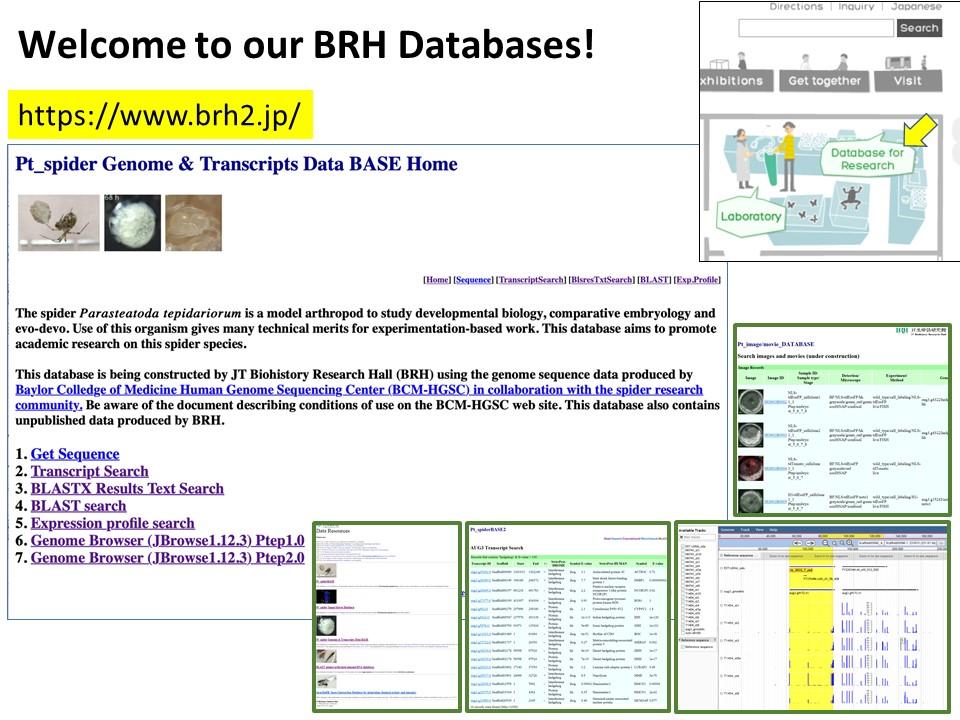 [April 2013]
Our Collaborator Maarten Hilbran,Ph.D. who is from Oxford Brookes University
stayed our laboratory for 2 weeks.

1) Evolution of classical cadherins responsible for adherens junctions
We investigate the diversification of the structure and function of cell-cell adhesion molecules called classical cadherins, which are the key components of the adherens junctions. This junction type is of particular importance in driving and regulating tissue morphogenesis. We have identified lineage-specific structural reductions in the extracellular regions of classical cadherins. Our data suggest that similar but independent structural changes occurred in the classical cadherins at the adherens junctions in several different animal lineages. We are now attempting to investigate the functional significance of the classical cadherin structural changes using Drosophila. We want to understand the impact of evolutionary changes in cell-cell adhesion interfaces on metazoan morphogenesis.


Expression of DE-cadherin during Drosophila gastrulation
2) Development of the spider embryo
Second, using the spider Parasteatoda tepidariorum, a common house spider, we try to identify cellular, genetic and molecular mechanisms of arthropod body plan formation that are distinct from those of Drosophila. We have found that Hedgehog signaling plays key roles in anterior-posterior axis formation in the spider (Fig. 2). In Drosophila, similar roles are played by the Drosophila Bicoid-Nanos system, which is operational only in the syncytial environment. We also showed that cellularization in the spider is complete at or before the 16-nucleus stage, sharply contrasting with the situation of the Drosophila embryo, which is a syncytium until the number of nuclei increases to 6,000. Our findings have revealed that the common arthropod body plan is achieved by largely distinct mechanisms, suggesting that genetic programs underlying the formation of the basic body plan significantly changed during evolution. One of the most important messages from our spider studies is that the diversity of the genetic programs is large even within each major metazoan subbranch (such as the arthropod phylum). Comparative studies of widely-ranged animal species within the subbranch are required to better understand the ancestral states of the arthropod body plan and other bilaterally symmetrical metazoan body plans.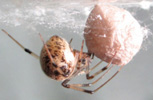 An adult female of the spider Parasteatoda tepidariorum (left) and a developing embryo (right)

1) A "domain-loss" model for classical cadherin evolution
We proposed a "domain-loss" model to explain the diversification of the extracellular structures of classical cadherins that are responsible for adherens junction assembly in the metazoans.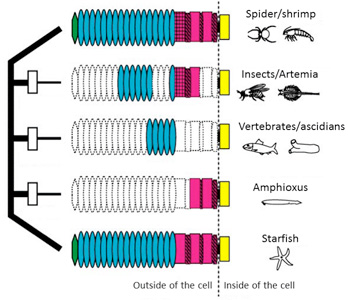 Fig. 1. A "domain-loss" model to explain the diversification of classical cadherin structure.
See more details
Oda and Takeichi, 2011
Oda et al., 2005
2) A shortened cadherin can function in adhesion, but not in epithelial bending
We constructed a Drosophila DE-cadherin lacking a half of its extracellular region and found that it can function as an adhesion molecule to organize the blastoderm epithelium but not as a morphogenetic regulator to drive ventral furrow formation, an epithelial bending accompanied by cooperative apical constrictions of cells.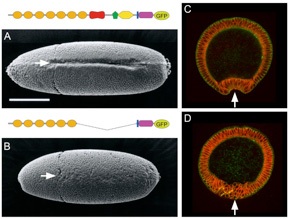 Fig.2. Replacement of DE-cadherin with a shortened one caused specific defects in ventral furrow formation.
See more details
Oda and Takeichi, 2011
Haruta et al., 2010
3) Hedgehog signaling in global pattering of the sider embryo
We discovered key roles of Hedgehog signaling in anterior-posterior axis formation in the early embryo of the spider Parasteatoda tepidariorum. We also showed that migration of the source of Dpp signal that orients the dorsal-ventral axis depends on the roles of Hedgehog signaling. This work highlighted the crucial importance of Hedgehog signaling in global patterning of the spider embryo.


Fig. 3. Embryonic RNA interference for Hedgehog signaling pathway components results in severe defects in early embryonic patterning.
4) Microinjection is now available for early spider embryos
We succeeded in applying a microinjection technique to early spider embryos. Using this technique, we can perform, for example, cell labeling, exogenous expression of fluorescent protein and embryonic RNA interference. Actually, we used this technique to verify that cellularization is complete at or before the 16-nucleus stage in the spider embryo.


Fig. 4. Cell clone labeling by microinjection of FITC-dextran into single blastomeres in early spider embryos.
5) Stripe-splitting, a novel mode of animal segmentation
We discovered a novel mode of segmentation, stripe-splitting, in the developing head of the spider Parasteatoda tepidariorum embryo. A stripe of hedgehog expression, after traveling, undergoes repeated splitting to pattern the three segmental units in the spider head. Our data suggest that this segmentation strategy employs an autoregulatory signaling network that hedgehog signaling pathway components, orthodenticle and odd-pared participate in. Our findings provide new insights into the evolution of segmented body plans in the metazoans.


Fig. 5. A stripe of hedgehog expression (purple) in the head region (see upper than the brown region) undergoes repeated splitting.



Please click here to contact us.

Please click here to read.