Period:

From December,2003

Place:

Exhibition hall 1F
Promenade of Biohistory, which was made celebrating the BRH 10th anniversary 2003.
Stroll down the long course of evolutionary history, and consider how it connects and relates to our world of today, following in the footsteps of so many other species on this unbroken trail extending back 3.8 billion years. That entire span, from the birth of the first living organism to the great diversity of life we see today, is depicted in 17 stacked glass panels, showing changes in the earth's environment, the shapes of the continents, and circles of different sizes representing the number of species in each of the six kingdoms of life. Crucial events in biological history, such as the advent of eukaryotes, the transition of marine life to land, the Cambrian explosion, and extinctions are all portrayed in these scenes captured in glass, which also include relevant passages from articles on these events that have appeared in the pages of the BRH quarterly. The walk forward highlights diversity, while the return trip puts a spotlight on commonality. We hope you will enjoy the dramatic beauty of life on our planet, and the growth of the world of research, captured in objects along the way.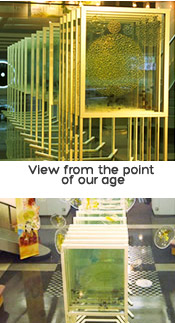 It now features even more species represented in hanging mobiles. The Promenade is organized by the colors of the living world as well as by evolutionary history, allowing you to compare both aspects as you walk along, as 70 different species hang and spin above your head. What fun to walk among some of your favorite animals and other currently being studied in BRH research. The mobiles feature other parts symbolizing human culture, bringing home the fact that we are just one of a great many living species.