Period:

From January,2006~

Place:

Exhibition hall 1F
Every living creature, including us humans, traces its ancestry back to the genome (DNA) of a single cell that lived 3.8 billion years ago. By comparing the genomes of different species, we can learn about how they are related. In this way, genomes show us what it means to be alive.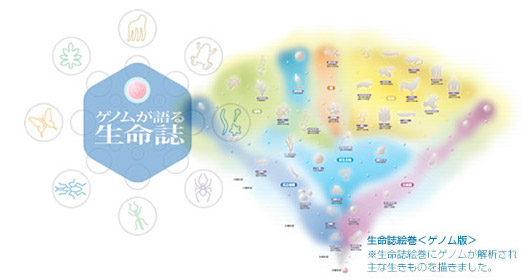 You are both a unique individual, and a human organism

Diversity and commonality, and the emergence of individuality
By comparing the medaka and human genomes, we can how they resemble each other, and where they differ, giving each its individual biological character.

How good a juggler are you?

Making the most of limited resources
Humans only have about the same number of genes as fruit flies and roundworms. So how do we account for the huge differences we see between species?

The power of redundancy

Small moves lead to unexpected changes
Over half of the human genome consisted of "repeat sequences" – but just what are they for? It turns out they both help us understand the genetic history of our species, and serve as powerful drivers of change.

Birth of individuals, birth of species

Small moves lead to unexpected changes
Different types of cells that all carry the same genome work together to form well-organized tissues and organs, while genomes in different species work to generate diversity.