Period:

From January,2006~

Place:

Exhibition hall 1F
We trace the history of living things by examining the earth that has sustained and nurtured them.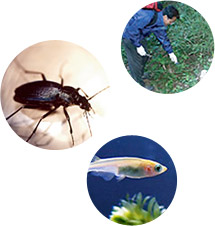 Tracing biological history: Ground beetles and
medaka
By examining the changes that have taken place in their DNA, we can uncover the histories of different species and their evolutionary relationships. Study of the ground beetle reveals the importance of considering how continental drift and the formation of the Japanese archipelago are inextricably linked to their biohistory.
The earth that has sustained and nurtured living things
Just as for the ground beetle, the medaka fish and even we humans share a history on this earth. All living things are linked in this same way. Insects and fish are close cousins in biohistory, as is each of us.