Period:

From March ,2007~

Place:

Exhibition room 1F
The cell is the basis for all living things. Life, both as a phenomenon and at the level of each individual organism, begins with a single cell. Here, you can get a sense of how cells work, connect, and interact with their environments. A model of a cell at 1:10,000 scale serves as the centerpiece, supplemented by videos, micrographs and coloring books.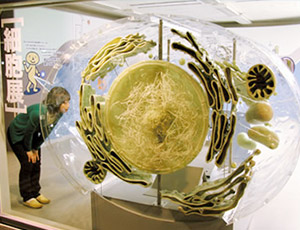 The "The Gateway to the Cell" coloring book is synchronized to show images within the cell model.
Open the book to explore the world within the cell, with fascinating new images with every turn of the page.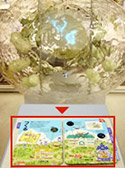 Cell behavior (interactive exhibit)
Touch the pulsing image of the cell onscreen to show examples of the many different kinds of cell that make up your body.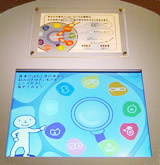 Cells are at work as you walk from place to place, eat and drink, smell new smells, and think about the world. Simply being alive means your cells are working, as cells are the fundamental unit of life. Indeed, life on earth began with the birth of the first cell. The cells in your body are direct descendants in the lineage that traces back to that first cell, as are all the cells that yet to be born. We hope you will enjoy this exhibit showing how cells work in our everyday lives.
Cooperation of deta

Tatsuo Ushiki / Nigata University
Shigeyuki kawano / University of Tokyo
Akihiko Nakano / University of Tokyo, RIKEN Brain Science Institute
Atsushi Miyawaki / RIKEN Brain Science Institute
Mitsuhiro Morita / Tokyo University of Pharmacy and Life Sciences
Shohei Yamashina / Kitazato University
Maki Yamamoto / Senshu University
Naoki Watanabe / Kyoto University
Cooperators

Cell Behavior DataBase
Marina Dan
Hiroyuki Kaneko / Keio University
Yukiko Saro / Tokyo Metropolitan University