We hold events once or more a month for both children and adults.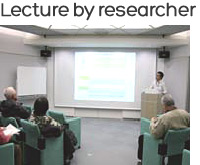 Researchers in BRH give lecture his or her own research and
talks with the audience.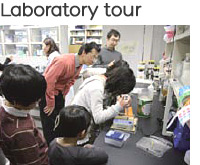 We invite the lay person to our laboratories three times a year, and show them what we are doing. Sometimes they can enjoy experiment.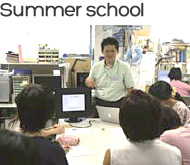 2 days experience of BRH life in summer. About 20 persons participate the BRH activity and present their results at the end.

January 18
Lecture by researcher
Vertebrate morphogenesis Laboratory
February 15

Open laboratory
March 21
Lecture by researcher
Evolution of Insect host selection mechanism Laboratory
April 18
Lecture by researcher
Phylogeny and evolution Laboratory
May 16
Lecture by researcher
Evolutionary Cell and Developmental Biology Laboratory
June 20

Open laboratory
July 18
Lecture by researcher
Evolution of Insect host selection mechanism Laboratory
July 27-28

Summer school
August 15

Talk and workshop
September 19
Lecture by researcher
Vertebrate morphogenesis Laboratory
October 17

Open laboratory
November 21
Lecture by researcher
Phylogeny and evolution Laboratory
December 19
Lecture by researcher
Evolutionary Cell and Developmental Biology Laboratory