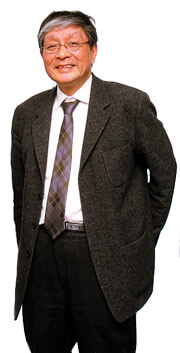 It requires considerable preparation to have a dialogue about language and life, the two great mysteries of contemporary science. I was not sure that I could conduct a worthwhile discussion on these two important topics with Ms. Nakamura, whose specialty and research background differs from mine, but my concerns were groundless.
Since the days of ancient Greece, the form of the dialogue has elicited intangible thoughts beneath the level of consciousness in an overt form. It has been an effective form for verbalization and developing logic. With the addition of skillful direction, ideas that have been formless take shape.
I enjoyed this discussion, as it was a bit different from my daily research activities. It touched on the form of science for which linguistics and biology is striving, the genome as the origin of life in the material world, and language as the origin of knowledge in the world of information. Though language and life follow a strict regularity, they are also systems that exhibit great diversity and adaptability.
The dialogue ended on the question of whether there was a scientific framework for these systems, or whether there was a basic shared framework for these two systems. It left me with a lot of ideas I'd like to think more about.
Several years from now, I'd like to discuss the results of each of our speculations.