To understanding of the mechanisms of development, biologists look for the cause of the aberration in the shape of medaka mutants. The mutant toguro (toguro means coiled snake in Japanese) has a different shape with no bones in the body. Interestingly, this phenotype was not observed in individuals hatched at low temperatures. This phenomenon is observed only for the medaka, which has a wide temperature range (4-40C°) for its growth.
Another mutant is Da, commonly known as the hikari (light in Japanese) medaka. (The silver color of its underbody extends to its back.) Its flat back, which is suited for swimming near the surface, has changed to resemble the tuna (the teardrop shape for swimming at medium depth in the ocean). It can be speculated that the medaka's ancestors were of the tuna type.
There is a great variation in the body types of fish depending on their living environment, even if they are a closely related species. This is likely the key to understanding the evolution of their body type.
Coil-shaped medaka
The upper photo shows a normal medaka fingerling,
and the lower photo shows the toguro mutant.
The toguro has no bones at all in the back. This mutant indicates a susceptibility to temperature. Changes in temperature during its growth control the period in which the aberrations occur.
Teardrop-shaped medaka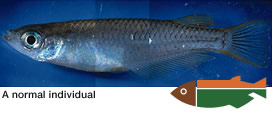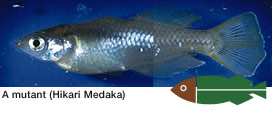 The trunk of a normal medaka has a flat, orange back with a dorsal fin and a green underbody with an anal fin (above). With the change of a single gene, the back of the medaka assumes the structure of the underbelly, and it becomes shaped like a tuna (below).