Biohistory journal, Autumn, 2007
Scientist Library
From chromosome research to life inheritance science
1941:
Born in Tokyo
1964:
Graduated from Department of Biophysics and Biochemistry, Faculty of Science, the University of Tokyo
1967:
Assistant at the University of Geneva Department of Molecular Biology
1970:
Researcher at the International Institute of Genetics and Biophysics, Naples, Italy
Researcher at the School of Medicine, University of Maryland, U.S.
1971:
Associate professor of Department of Biophysics, Faculty of Science, Kyoto University
1977:
Professor of Department of Biophysics, Faculty of Science, Kyoto University
1999:
Professor of Graduate School of Biostudies, Kyoto University
2004:
Designated professor of Graduate School of Biostudies, Kyoto University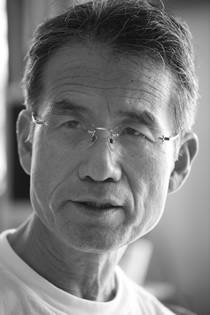 Photograph by Naruaki Onishi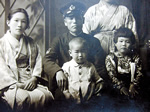 Sitting on my father's lap, with my mother on one side and my sister on the other.

In primary school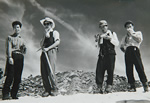 Mountain climbing while in college (far left)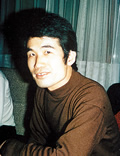 MPhoto taken at a party while studying in Switzerland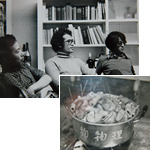 Taking a break in biophysics classroom at Kyoto University (center). Oden was on the menu that day.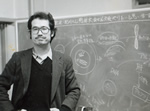 In front of a blackboard on which is written research procedures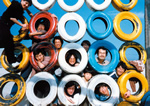 A photograph taken on my 46th birthday with other lab members. I'm in the blue tire.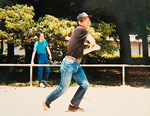 Recreation for lab members. I like being physically active.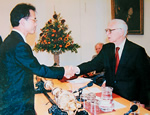 Elected as an overseas member of the Royal Society in 2000, and shaking hands with Prof. Klug.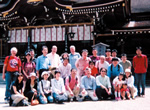 A chromosome of fission yeast colored with DAPI, a fluorescent dye. I developed the basic technology that enabled the easy observation of the cell nucleus DNA with a fluorescent microscope.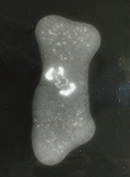 I got together with old friends to celebrate receiving the Cultural Order Award in 2004. (Fourth from left in back row)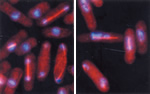 This is a view of the chromosomes (blue) during cell division, and the spindle fiber (red) that causes the chromosome to divide. In the wild type (left), there are divided chromosomes at both ends of the grown spindle fiber. In the mutant (right), however, the spindle fiber grows without the chromosomes being properly distributed, and cell division occurs.
Belief in talent
When I was in the second or third year of primary school, I read in the newspaper about the research of Prof. Ichiro Oga, who caused a lotus flower to bloom beautifully from a seed that had been discovered in a layer of the earth 2,000 years old. I remember being strongly impressed about how that seed had lived for such a long time. That feeling of surprise is linked to my research today.
When I was in high school, I wanted to become a microbiologist after reading books "Microbe Hunters" and "The Life of Alexander Fleming". But I was still somewhat confused about the path I wanted to take, because I was also drawn to philosophy and art. I liked art, and thought I had some talent. Everyone has some sort of talent, and I thought if I could find work that utilized that talent, I could make a go of it even if I encountered hardships along the way. In the end, I chose natural sciences.
Small Masterpiece
After entering college, I found out about the research into gene function using the coliform bacillus conducted by the Frenchmen Jacob and Monod, and I was drawn to the new discipline of molecular biology. I wanted to conduct that sort of research, but it was difficult to do in Japan. While I puzzled over what to do as a graduate student, I noticed the work of the Swiss Kellenberger, who conducted research into the formation of the shape of phages, a virus that infects the coliform bacillus. At that time, I was interested in the question of how chromosomes became so compact. Phages have a uniform shell, inside of which DNA is concentrated. I thought this could be a model for chromosomes. I asked a professor visiting Japan and somehow got permission to study overseas. It would be two years before I could actually go, however.
My life in Switzerland was very satisfying. I had seven notebooks open on my desk as I conducted several experiments simultaneously. I was studying mutant phages, and had a postulate for a method to determine the protein to which a broken gene would respond. I submitted a paper, and when it got back from review, I saw that the first word the reviewer had written was "Congratulations". Some of my colleagues even said it was a small masterpiece, and that gave me confidence as a researcher.
Another important experience was the short time I spent in joint research with Prof. Klug at Cambridge. He is well-read, very sharp, and has a superb memory. By talking with him, I was strongly impressed with how an argument based on data can creatively engage a researcher. While the time I spent with him was short, I felt that I had grown as a result, and became an entirely new man.
Chromosomes and the inheritance of life
After I returned to Japan, I began to study chromosomes in earnest and looked for a model organism. After reading two papers on fission yeast, I had the intuition that it was what I was looking for. It was like impulse buying. The mainstream in eukaryote research at that time was budding yeast, but I just didn't like the looks of it. If I were going to select an organism that I was going to be spending so much time with, it wouldn't do to choose something that I couldn't like.
My intuition paid off. Cell division proceeded, even though the chromosomes weren't properly distributed. I was able to obtain a previously unknown mutant. From that, we understood that genes which were important for chromosome agglomeration and distribution were closely related to the cell cycle. The basic mechanism in which chromosomes were properly conveyed from cell to cell is the same, whether it be for yeast, animals, or plants. I had begun this research because I was interested in chromosome shape, but I declared this to be a much broader field that should be called life inheritance science. It is the basis of the basic discipline.
Long Novel
I continued my research on consistent themes, with the intention that each time I would produce a success with something I found the most interesting. But research at universities is conducted in teams with young people, so each of the tasks within the research project could be considered an achievement of the individuals involved. If I had been an artist or craftsman working alone, I might have had some of my own projects that I gave up on partway through. But that's not what happened?we brought them all to completion, and in the process gave those young people some training. In other words, the important motif is that the scene keeps changing as new people keep appearing at different points, even if the projects are consistent from beginning to end. I proceeded with academic learning as if it were a long novel.
Today, I am concerned that though there are many labs which have many students, the boss doesn't know what to do. That's particularly the case when the leader is a young person. The current research funding system is not suited for research conducted over a long period and is consistent from beginning to end. I hope that, as the heads of their labs, they display their spirit and a constant conviction.
(Text: Atsushi Yamagishi)
| | |
| --- | --- |
| Awards | |
| 1995: | European Molecular Biology Organization, international member |
| 1999: | Toray Science and Technology Prize |
| 2000: | The Royal Society, international member; Asahi Prize |
| 2001: | Uehara Prize |
| 2002: | Medal with Purple Ribbon |
| 2003: | The Japan Academy Prize and The Imperial Prize |
| 2004: | Cultural Order Award |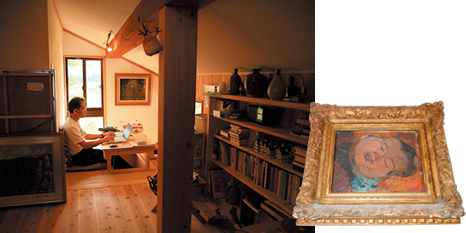 Left: I spend my weekends at my second home, on land at Kohoku area with a view of Mt. Hira
Right: My father, an artist, painted my sleeping face as a child.
Please close a window with the button of a browser who are turning off Javascript.