2013 Biohistory's Theme OPEN
Words and living things change in their relationships and history

Nakami Yamaguchi / Keiko Nakamura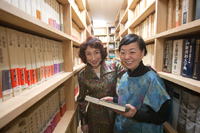 The linguistics books I read to use the deciphering of words as a reference for genome sequencing were extremely difficult. But among them Dr. Yamaguchi's books that discuss the history of Japanese language and Japanese classical literature really conveyed the joy of learning and were interesting. In particular, when writing about "The Princess Who Loved Insects", she said of the princess "She grasped the true nature of things, and if she were alive today she would without a doubt be a biologist". When I read that, I knew that I had to interview her. Despite being the first time that we met, our conversation flowed like we were old friends. It was fun, and I learned a lot. (Keiko Nakamura)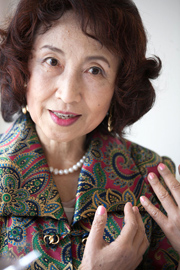 Our conversation became lively as we talked about the Heian-era story of "The Princess Who Loved Insects" that forms the backbone of Biohistory Research Hall. She is a princess that would probably be one of the leading biologists if she were alive today. Dr. Nakamura looked annoyed and asked me "She was such a lovely princess. Why do you think literary scholars talk so derogatorily about her? They even connect the Japanese disease name for chlorosis to her." I answered "Even today, female researchers are looked upon as not having sex womanliness, being argumentative, and being inflexible in their claims. Men in general don't really like their presence, and so it's kind of unavoidable that they're treated like weirdoes." I'll never forget the unhappy look on Dr.Nakamura's face. But I think that even though men who can understand the attraction of "The Princess Who Loved Insects" are few, they do exist. This is the salvation. So how did the interview go? Having admired Dr.Nakamura for such a long time, I was getting excited by myself from the day before in anticipation of the interview. (Nakami Yamaguchi)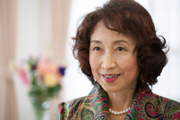 Japanese are good at capturing details intuitively, so onomatopoeia and mimetic words become the keys to following Japanese language history. (Nakami Yamaguchi)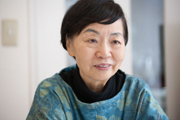 In order to decipher the historical narrative written in the genome, I want to learn the key corresponding to onomatopoeic and mimetic words in the Japanese language. (Keiko Nakamura)
| | |
| --- | --- |
| Nakamura : |  In biohistory, we look at when living things and try to talk about what we learned from that in ways that connect to daily life, we inevitably chose the language of ancient Japan to express it. Scientific words in Japan have many translated terms that are words of Chinese origin, and they are not suitable for talking about living things and daily life. |
| Yamaguchi : |  In the ancient language of Japan, there are many cases in which words are born from the sounds they represent without change, such as the sound of hitting "tata" becoming the Japanese word for hitting "tataku" or the sounds of animal cries becoming the names of the animals that make those cries, and with such words you can feel life. |
| Nakamura : |  Features like those of ancient Japanese words also seem to have a relationship to the climate of Japan. |
| Yamaguchi : |  The history of words is closely linked to climate and culture. It's also similar to human society. There are power struggles between words, and sometimes they attempt to coexist for mutual prosperity. |
| Nakamura : |  Words are really living things. And in biohistory we have particularly cherished "mezuru" or love. |
| Yamaguchi : |  Mezuru originally had the meaning of being intuitively loving. But nowadays, the meaning seems to have taken on objective implications. This is because the meaning of words changes. |
| Nakamura : |  How genes are used also changes, so I think that learning about linguistics research would also be interesting for genome research. Please teach me about it. |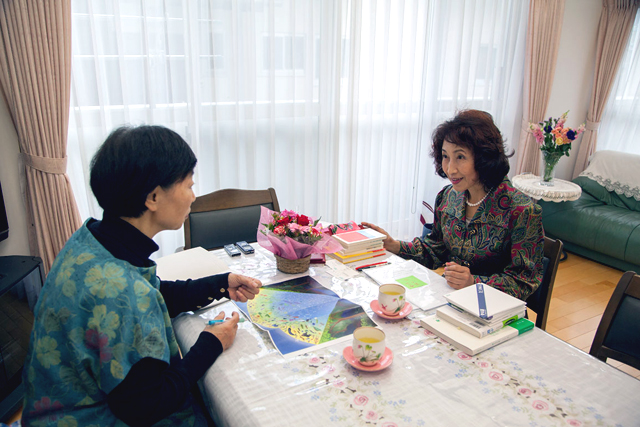 "The Princess Who Loved Insects":
The "Tales of the Riverside Middle Counselor"(Tsutsumi Chūnagon Monogatari)from Japan's Heian Period (written in the beginning of 11th century) tell of "The Princess Who Loved Insects" (Mushi Mezuru Himegimi). Despite her elevated rank, the spent her time observing the living things around her and learning about their true natures out of a spirit of scientific inquiry.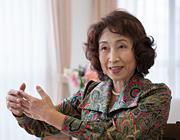 Nakami Yamaguchi:
Born in 1943 in Shizuoka Prefecture. Graduated from Ochanomizu University, Faculty of Letters and Education. Graduate degree from Tokyo University, Graduate School of Humanities and Sociology. Doctor of literature. Currently a honorary professor at Saitama University. Specializes in the history of the Japanese language, particularly the history of onomatopoeic and mimetic words.